Atelopus cruciger
Class Amphibia - Amphibians » order Anura » family Bufonidae - Toads - Duméril and Bibron, 1841
Atelopus cruciger - Lichtenstein & Martens, 1856
Size male: 28-34,5 mm.
Size female: 33,5-39,5 mm.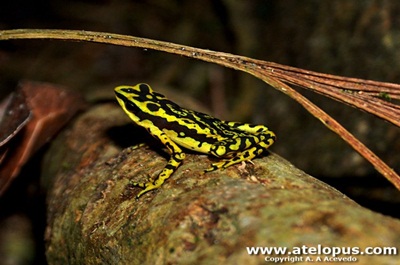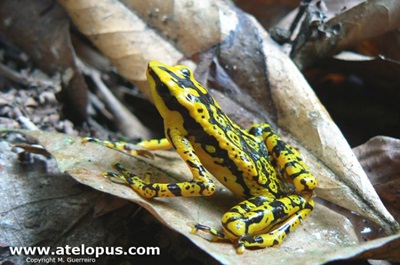 Atelopus cruciger - population in Parque Nacional Henri Pittier.                                         Atelopus cruciger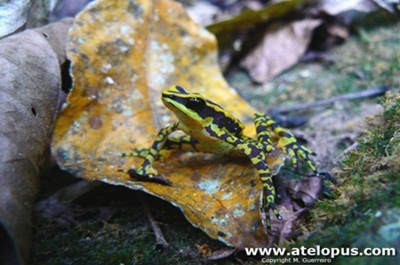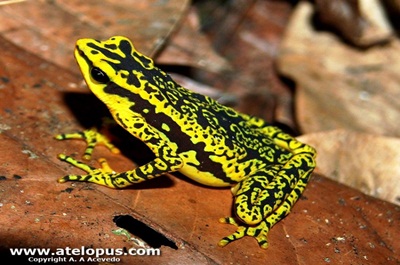 Atelopus cruciger                                                                                                             Atelopus cruciger

Geographic Range
Native to Venezuela and was described as A. varius at first.
This species is endemic a few spots in Northern Coastal mounains of Venezuela. It has been found on altitudes between 30-2200 meter above sea level (asl) in montane and lowland humid forest.

Population
The Historic range was probably throughout the whole entire mountainous area of the central coastal range but is documented restricted to several localities in the northern and southern versants of the Cordillera de la Costa of Venezuela (Estadoes Aragua, Carabobo, Miranda, Vargas, Yaracuy and the Distrito Federal). It has also been found in the Cerro Azul, Estado Cojedes in 1998.

There are only three populations known at moment and they are all found at lower elevations along a cascading mountain stream in cloud forest. There was two very small population found on the northern slopes of Parque Nacional Henri Pittier in 2004-2005 at 322m and 220m asl after a total of 246 person hours of intensive searching.
There there has also been reported an observation from Río El Duro, Edo, Aragua in 2006.
One adult male was found morbid at Rió Cata at the Northern slope of Parqie Nacional Henri Pittier in 2007. DNA analysys of tissue samples from this male revealed high levels of infections. Ecvessive skin sloughing indicated that chytidomyscosis was probably implicated.

The rapid decline
Atelopus cruciger has undergone a rapid decline, with most of the population having disappeared, despite many of the known localities falling within national parks (Parque Nacional Henri Pittier, Parque Nacional Rancho Grande and Parque Nacional San Esteban. Museum records indicate that A. cruciger was formerly abundant, with 627 records from 33 localities, widely distributed over most of the Cordillera de La Costa. This species was thought to be extinct after only two specimens were collected in 1986 and no individuals were discovered in the years immediately post-1986.

For nearly 20 years, no sightings were reported. However, after 8 years of intensive surveys, a small population was found in 2004 near a cascading mountain stream in the Parque Nacional Henri Pittier cloud forest, south of Cata at an elevation of 600m asl (Manzanilla and La Marca 2004)

Of the last two specimens collected in 1986, one of the two was retrospectively examined by histology and reported to have been infected with Chytridiomycosis. It is thought to be the primary factor in the rapid decline of several other Venezuelan Andean members of this genus (A. carbonerensis, A. mucubajiensis, and A. sorianoi). The existing Atelopus cruciger populations in the Parque Nacional Henri Pittier are infected with Bd, and one adult male was found morbid and heavily infected (Rodríguez-Contreras et al. 2008).

Another possible threat is industrial pollution, particularly in the Valencia-Maracay area where many industries are emitting gases .

Pet trade
Before its disappearance, A. cruciger was occasionally collected for the pet trade.

Habitat
This is a terrestrial species inhabiting tropical lowland forest. Breeding and larval development takes place in forest streams. Forest - Subtropical/Tropical Moist Lowland Wetlands.

Sources, References, more information & links
Chytridiomycosis as a Possible Cause of Population Declines in Atelopus cruciger - Elisa Bonaccorso, Juan M. Guyasamin, Diana Méndez, Richard Speare - PDF Available.
Rediscovery of Atelopus cruciger - Argelia Rodrígez-Contreras, J. Celsa Señaris, Margarita Lampo, Ramón Rivero - PDF Available.
Jesús Manzanilla, Enrique La Marca, Ronald Heyer, Ernesto Fernández-Badillo 2004. Atelopus cruciger. The IUCN Red List of Threatened Species. Version 2015.2. <www.iucnredlist.org>.
Atelopus cruciger
8 images